This is part 3 in our series on the players who carry the most risk of getting injured going into 2014. We have covered 5 Running Backs as well as 5 Wide Receivers who are most likely to get injured and now we turn our attention to Quarterbacks.

We get our injury probability from our patented Injury Predictor algorithm that takes into account over several points of data to work out how likely each player is to get injured in the coming season. More on that here.
The Quarterback position statistically carries the least amount of injury risk compared to the other skill positions. So much so that Jake Locker who is the QB most likely to get injured in 2014 has less chance of getting injured than Jamaal Charles and Shane Vereen who rank 7th and 8th on our top 10 list of RBs to get injured this season.
Here is a list of the 5 Quarterbacks who we see as most likely to get injured in 2014.
Locker was top of our list in 2013 too for pretty much the same reasons we outline below and it didn't take long for him to go down with a bad hip sprain in week 5.
He was placed on IR in 2013 and has missed 14 games in since 2012 due to injury. He also underwent two surgeries in 2013, one being to his non-throwing shoulder and the other to fix his fractured foot. These injuries are significant to a mobile quarterback and will weigh heavily on his ability to stay healthy in 2014. Lisfranc fractures in particular are nasty injuries to overcome and the bones on the top of the foot break and it affects a players ability to plant and generate power in the upper body. Ken Whisenhunt is attempting to counteract Lockers injury risk by designing a game plan that keeps him in the pocket as much as possible. If Locker can progress in this system Tennessee's o-line will have the responsibility of keeping him upright to prolong his health in the NFL.
Jake Locker's injury history is as follows:
2008 (college) – fractured thumb on throwing hand
2010 (college) – fractured ribs
2012 (NFL) – separated shoulder (non throwing) required surgery in the offseason
2013 (NFL) – sprained hip
2013 (NFL) – lisfranc fracture
Cam Newton is not ok.
We know there has been a lot of talk throughout Fantasy Football circles about how the surgery he underwent was to tighten the ligaments in order to provide stability and make him more explosive but we are not picking up what everyone else is throwing down. To say that assumes we have arrived in an age of the "6 Million Dollar Man" type performance enhancing surgeries. Whilst we may not be far off from that reality we are not there just yet. Cam Newton underwent surgery because there was a lingering injury that needed to be fixed. And when ankles get operated on the likelihood of injury increases. Especially with an athletic player like Newton who relies on trademark shimmying and shaking to remove angry 300lb defensive linebackers off his back.
Newton has a new O-line as 4 starting offensive linemen retired since 2013. He also has a brand new receiving corps he has never worked with before. This could mean less time to release the ball along with potentially longer waits for receivers to get open. Cam Newton is going to be relying on that new ankle of his a ton in 2014. Let's hope it holds.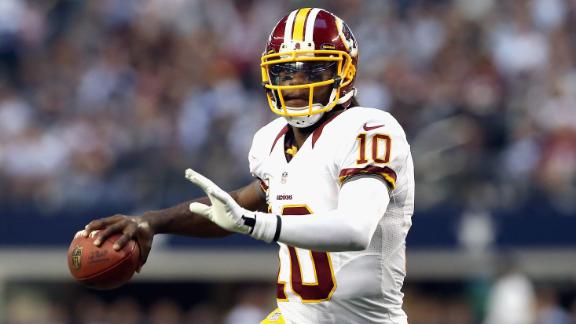 When the dust settled after Coach Shanahan's departure it has become clear that RG3 was rushed back
The NFL post-Peterson-2012 is an era where ACL injuries, whilst season ending are not necessarily career ending. What is often disregarded is the effect of a second ACL revision surgery. Players who have two ACL surgeries on the same knee have a substantially higher incidence of corresponding ligament damage along with reinjuring the ACL again (think Danario Alexander).
While he is a year removed from the second surgery, a player as mobile and edge-aware as Griffin will always carry an elevated level of risk due to his compromised right knee.
Smokin' Jay has been banged up these last 4 years having suffered the following injuries:
2 concussions (2010 and 2012)
Fractured thumb (IR in 2011)
Pulled groin and high ankle sprain (2013)
The ankle sprain and groin pull are injuries to be concerned about at this stage of his career. Cutler does heal well though and has never had consecutive injury ridden seasons that caused him to miss multiple games. However he is not getting any younger and with all older players it will take less to keep him out of a game as the season progresses.
If you look at all the injuries he has suffered with the exception of 2013 they were due to contact (concussions, fractured ankle, fractured thumb and neck sprain) and he has been able to avoid the soft tissue injuries that tend to repeat over the course of a career so that is definitely in his favor of making it through 2014 with a full bill of health. Trestman has been working on Jay getting the ball out quicker so hopefully that, along with his o-line keeping him upright should avoid the contact injuries that have plagued him over these last few years.
Let's start this with a big caveat here. While Foles may be the fifth QB most likely to get injured the range of injury probability he is in is well below the top 20 most risky RBs and WRs. So for a QB he is likely to get injured but versus the universe of total players we look at his injury risk grades out the bottom end of medium.
Foles stepped up huge in 2013 delivering a record breaking season and leading the Eagles to the playoffs in the Chip Kelly's high octane offense. What triggered our algorithm to zero in on Foles as this year's fourth most likely QB to be injured is 1) the fact that the injuries he has suffered in the last 3 years all tend to reoccur and 2) only his second year as a starter and 3) the volume he is likely to be facing in what is projected to be this year's fastest moving offence.
The injuries he has suffered are:
MCL sprain at college
Fractured throwing hand resulting in IR in 2012
Huge concussion that knocked him out of a game in 2013
All of these injuries come with a high statistical probability of reoccurring.
Projected volume is also a big factor here. The more times a player touches the ball the more likely they are to get injured. Kelly's offence is set to run hot this season and increased snaps will mean that there is a higher chance of an injury event occurring.
Share This!